Reading Guilty Pleasure Books
We all have that book. You know, the one that makes you physically go:
asdfghjkl.
The one that makes you laugh for no reason then start crying a second later. We've all been there, my friend. We've all read a book that makes us melt from the inside and out.
I don't know about you, but for me, those books are my guilty pleasures. And they specifically tend to be contemporaries.
Why are contemporaries your guilty pleasure books?
*chokes on air* Why are they NOT? Okay, I understand that contemporaries just aren't for everyone. But! I can guarantee you that no matter what genre you prefer, there is at least one contemporary that will make you squeal for eternity.

Which is why they are definitely my guilty pleasure. They make me smile at their pages, squeal and kick my feet into the air, then lay on the floor and sob because #feels.
What are contemporary books?
Ever heard of John Green, Rainbow Rowell, or Jenny Han? Bingo! They are some of my favorite contemporary authors. The books that they write are not just romances but are more specifically set in modern day time. They're basically the realistic books.
When you find your guilty pleasure book
Sometimes you just know. Like, you'll be walking through the aisles of the romancey book section with pretty, pastel covers, and you'll see something that catches your eyes. You stop. The whole world freezes around you, and it's just you and that book. You reach out, caressing the cover tenderly. You lift it off its place on the shelf and open up. The aroma of the pages makes your nose tingle with joy. You read the synopsis. It sounds kind of cheesy but you love cheese.
Or you could be scrolling through Goodreads and then you see a title that catches your eye. You glance behind you before clicking on the image. First, you'll notice that most of the reviews contain gifs of people crying or dancing. Then, before you know it, that book is on your to-read shelf and you're logging into Amazon or reserving it at your library.
Now that you have found your squeal-worthy book, what happens when you read it?
I'm soooooo glad you asked.
5 THINGS THAT WILL HAPPEN WHILE READING A GUILTY PLEASURE BOOK
I'm mainly basing this off of contemporary reads but if it applies to you with other genres, that's cool bro.
When you meet the characters
Alright. We both know that you know what's going to happen. There's going to be two main characters and you already know they are smitten (yes, I just said that word. No, I am not your grandmother) with each other, even before they meet. BUT IT IS STILL SO MUCH FUN TO WATCH AS THEY MAKE EYE CONTACT AND DO THAT LITTLE THING, YOU KNOW, THE: "Oh. You. I like you."
When you're waiting for said characters to finally get together
It's agonizing watching their playful banter and accidentally brush their fingers together without meaning to then looking away so the other character doesn't see their blush. IT IS A WONDERFUL KIND OF TORTURE. So, now you're at the point where you're like: "Just kiss already."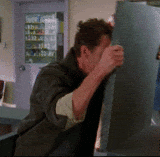 Which is 89.9% of the whole book. So make yourself comfortable.
When they FINALLY get together and they do all those cutesy cute things and your feels just kinda go CAABOOOM
Which may feel like ages later but could even be the next page, depending on the book. BUT YES. THEY ARE TOGETHER AND THE WORLD FEELS LIKE A HAPPY HAPPY PLACE. LOOK AT ALL THE UNICORNS!
But then everything you have been waiting for goes down the drain and you can't do anything about it
Yes, you know exactly what I mean. It's that part in the book where everything is going exactly how you want it but then something happens and destroys that happiness AND NOW THE WORLD IS AN AWFUL, TERRIBLE PLACE AND YOU DON'T WANT TO KEEP READING BUT YOU HAVE TO FIND OUT HOW THIS ENDS (did I mention that there are only 20 pages left to resolve everything??).
THE BOOK IS NOW OVER AND THE AUTHOR ISN'T WRITING A SEQUAL SO NOW YOU ARE LEFT WITH ALL THESE FEELS AND YOU NEVER WANT TO READ ANY OTHER BOOK BUT THAT ONE
Yes, my friend. I have been there.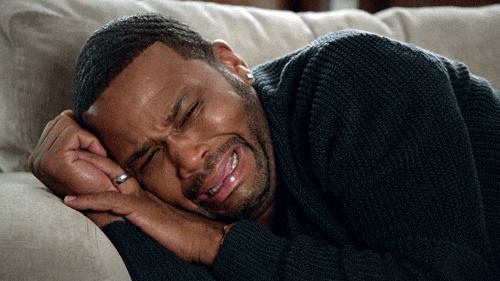 It's okay. It'll be okay. You wanna know why? Because you're going to re-read that book at least three times and you'll make fanart and fan cast the characters and daydream about moments that weren't mentioned in the book (which may or may not consist of those characters living in a cute apartment and making each other breakfast).
Repeat!
Yep. You're going to repeat this whole process again and again, maybe even with the same book! It's a beautiful, horrible thing to do to yourself but you love it.
Talk to me!
What are some books you've read that are YOUR guilty pleasure? HAVE YOU EVER FOUND YOURSELF IN A STATE OF EMOTIONAL DISTRESS BECAUSE OF THE CHARACTERS?? Because same. WHY DO WE DO THIS TO OURSELVES? Oh, I know. It's the book life, duh. We didn't choose it, it chose us. Let me know if you related to this post in the comments!
xx Kenzie
pea ees: this post may or may not have been inspired by the fact that I recently read Simon vs. The Homo Sapiens Agenda and I haven't stopped smiling since.
pea ees to dah pea ess: OREOS *sobs*